It is a well-known fact that it costs much more to attract new customers than it does to keep existing customers. Each customer interaction that occurs over the lifecycle of the customer's business relationship with your organization defines how it is perceived and has a major impact on your bottom line. Have you had an outside audit to verify your customer experience processes by someone outside of your organization? If not, you should.
One of the biggest dangers is isolation from all of your customer "touch-points." The customer touch-points must be
viewed as part of a "whole" organization. Ask yourself this question - "who within my organization does NOT have an impact (directly or indirectly) on our bottom line?"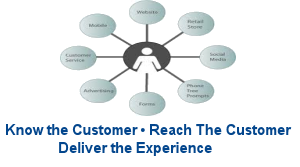 Why Customers Quit (Source: Michael Leboeuf)
1% die
3% move away
14% are dissatisfied with the products
9% leave because of competitive reason
5% leave because the develop other friendships
68% quit because of an attitude of indifference towards the customer by the staff.
The objective of the Customer Touch-Point Analysis Program by Evans Consulting Group is to identify every touch point throughout the customer experience from "cradle to grave." We will chart out each customer experience through our in-depth analysis and provide you with an extensive assessment of each process, identify roadblocks, and offer solutions from the technical infrastructure to the service / support representative.
Customer touch-points include: (but are not limited to)
Web self-service
Email, chat, and all other forms of social media
Interactive voice response and menu prompts
Service / Support agents skills assessment
Face-to-face service skills interactions
All department transactions and processes that impacts the customers perception of your organization
We Take a HOLISTIC Approach of the Whole Service Experience Within Your Organization.
For more information, CLICK HERE
Or give us a quick call at 770.772.7377