Adapting Your Leadership Style to Become an Effective Leader
Adapting Your Behavior Style to Others
As most experienced leaders know, people come in all shapes and sizes.  What works for one employee, in terms of communicating, motivating, giving feedback, etc., may not work with another.  Understanding and speaking to different styles will make you a more effective leader.  In this program , you will assess your personal leadership style, and practice applying new skills and tools  for building connections with employees, running productive meetings ,and enhancing employee motivation.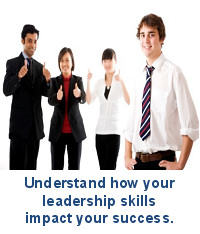 What you will learn:
How to identify  and understand your primary leadership style and what drives you to be who you are
The Four Leadership Styles:

Dominant: The results-oriented, quick decision maker
Influential: The people-person who loves to interact and has lots of enthusiasm
Steady: The dependable, loyal team player
Conscientious: The detail-oriented, analytical thinker

How to leverage your style to build influence, trust, and credibility
How to adapt to other behavioral styles to better communicate for more positive outcomes
How to impact the perception of how you are perceived by adapting your style
Workshop Details:
Four-hour workshop / plus one-hour post workshop skills practice (for those who choose to participate) to develop an effective self-development leadership plan
Maximum 25 attendees
Audience: Managers, supervisors, or anyone within the organization that has an impact on service deliery.
NOTE: Please fill out the following form completely in order to request more information about this workshop.

PLEASE ENTER THE FOLLOWING INFORMATION
NAME:

(First Name - Last Name)
TITLE:
COMPANY:
EMAIL ADDRESS:
PHONE NUMBER:
REQUEST DETAILS:
SECURITY CODE:
What is 111 plus 237?

IP ADDRESS:
Your IP Address is recorded as:
3.239.59.31




NOTE: All information submitted to our company will be considered confidential and will not be released to any agency, business, or individual except as might be required by law.