| | | |
| --- | --- | --- |
| | Our team of experienced leaders in sales, marketing, call center management, training and development will evaluate objectively each customer touch point in your process, defining each department's role in the overall service delivery process. We believe contact centers that implement and focus on a customer centric approach to the overall service delivery work more effectively because the whole organization becomes involved and accountable for the customer experience. | |

Customer Service 101 is a division of Evans Consulting Group focused specifically on customer service training and development. We offer customized customer service training programs to meet your organization's specific needs. Depending on your training requirements, we offer instructor-led workshops at your site or develop programs for your team to deliver.

Sherry Redden Evans, managing director of training & development, is recognized in the customer service community as a leader and is an accomplished speaker in the dynamics of customer service delivery within organizations. Sherry and her team will be with you every step of the way from the needs analysis to post assessment follow-up to ensure the success of the program.



SELECTED WORKSHOP DETAILS
EVANS CONSULTING GROUP
Investing in the Customer Retention Process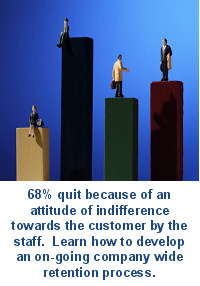 What you will learn:
How to take a more holistic approach and measure the quality of service and support devoted to every touch
point
Understanding that each part represents the whole organization and customer experience
How investing in loyalty management, customer satisfaction, and retention make business sense and its
impact on your bottom line
How to audit the current customer service touch points. Customer expectations versus reality
How to identify what works and what doesn't
How to define failsafe options along the way to keep the process moving, leading the customer to a positive service experience
How to redefine the customer touch point processes (Both infrastructure and work/call flow along with service skills gaps)
How each customer touch point sets the tone of the overall experience and how service skills are at the core of the process
How to define and implement customer service metrics to accurately measure the customer touch points that are most important
Workshop Details:
Four-hour workshop / plus one-hour post workshop skills practice (for those who choose to participate) to develop a customer retention program that fits your organizaion's needs and also shows your customers that you value their business
Maximum 25 attendees
Audience: Managers, supervisors, or anyone within the organization that has an impact on service deliery.
NOTE: Please fill out the following form completely in order to request more information about this workshop.

PLEASE ENTER THE FOLLOWING INFORMATION
NAME:

(First Name - Last Name)
TITLE:
COMPANY:
EMAIL ADDRESS:
PHONE NUMBER:
REQUEST DETAILS:
SECURITY CODE:
What is 111 plus 237?

IP ADDRESS:
Your IP Address is recorded as:
3.239.59.31




NOTE: All information submitted to our company will be considered confidential and will not be released to any agency, business, or individual except as might be required by law.