Effectively Managing Teams
Effectively Managing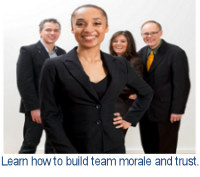 and Motivating Teams to be Their Best
If you are like most managers, your staff is a vertical slice of age groups, personalities and talent.  Your responsibility as a leader is to be proficient in your ability to encourage, motivate and inspire EACH member toward specific departmental and organizational performance goals. The goal of this workshop is to introduce you to specific skills and techniques that all leaders must develop to be an effective manager of teams.  Along with how to interact, inspire and motivate each age group and personality style.
Belonging to any team, in the broadest sense is a result of feeling part of something larger than you and having an understanding of goals and values of the team's leader.
What you will learn:
Understand the difference between the TASK (processes) of building a team and the SENSE (emotional intelligence) of inspiring and motivating by utilizing your team management skills.
Identifying the FIVE skills every effective team leader must utilize.
How to effectively communicate your expectations to a diverse group of personalities and age groups.
Understanding how individual and team values differ between generations and how to vary your approach with each group.
How to consistently maintain a high level of motivation and satisfaction among individual team members.
How to establish accountability among team members towards the common goal.
How to handle conflict and build trust and accountability.How to reward team accomplishments appropriately.
Workshop Details:
Four-hour workshop / plus one-hour post workshop skills practice (for those who choose to participate) working with your real world team challenges as skills practice examples
Maximum 25 attendees
Audience: Team leaders, project managers, management
NOTE: Please fill out the following form completely in order to request more information about this workshop.

PLEASE ENTER THE FOLLOWING INFORMATION
NAME:

(First Name - Last Name)
TITLE:
COMPANY:
EMAIL ADDRESS:
PHONE NUMBER:
REQUEST DETAILS:
SECURITY CODE:
What is 111 plus 237?

IP ADDRESS:
Your IP Address is recorded as:
3.239.59.31




NOTE: All information submitted to our company will be considered confidential and will not be released to any agency, business, or individual except as might be required by law.