| | | |
| --- | --- | --- |
| | Our team of experienced leaders in sales, marketing, call center management, training and development will evaluate objectively each customer touch point in your process, defining each department's role in the overall service delivery process. We believe contact centers that implement and focus on a customer centric approach to the overall service delivery work more effectively because the whole organization becomes involved and accountable for the customer experience. | |

Customer Service 101 is a division of Evans Consulting Group focused specifically on customer service training and development. We offer customized customer service training programs to meet your organization's specific needs. Depending on your training requirements, we offer instructor-led workshops at your site or develop programs for your team to deliver.

Sherry Redden Evans, managing director of training & development, is recognized in the customer service community as a leader and is an accomplished speaker in the dynamics of customer service delivery within organizations. Sherry and her team will be with you every step of the way from the needs analysis to post assessment follow-up to ensure the success of the program.



SELECTED WORKSHOP DETAILS
Customer Service 101
Email Communications and Best Practices

The Power of the Written Word
It's easy to convey the impression that you're unprofessional or careless if you don't follow some basic principles of good business writing.  Once thought to be a dying form of communication, the ease and prevalence of e-mail has made this form of communication more relevant, and visible, than ever before.  Understanding the skill of the written word is critical in composing a professional, effective email.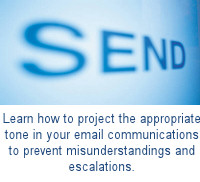 What You Will Learn:
The basics of writing skills and how to write a professional email

How to craft the content of the email

How to handle sensitive and confidential information

How to project kindness, empathy, and professionalism

How to manage emotions to prevent escalations

The most current best practices to writing effective emails that recognize different emotions and distinguish degrees of intensity
Workshop Details
Four-hour workshop / plus one-hour post workshop skills practice (for those who choose to participate) using applicable work scenarios from your organization to practice your writing and email skills
Maximum 25 attendees
Audience: anyone in the organization who interacts via email with the internal and external customer, coworker, or staff.
NOTE: Please fill out the following form completely in order to request more information about this workshop.

PLEASE ENTER THE FOLLOWING INFORMATION
NAME:

(First Name - Last Name)
TITLE:
COMPANY:
EMAIL ADDRESS:
PHONE NUMBER:
REQUEST DETAILS:
SECURITY CODE:
What is 111 plus 236?

IP ADDRESS:
Your IP Address is recorded as:
3.239.59.31





NOTE: All information submitted to our company will be considered confidential and will not be released to any agency, business, or individual except as might be required by law.