| | | |
| --- | --- | --- |
| | Our team of experienced leaders in sales, marketing, call center management, training and development will evaluate objectively each customer touch point in your process, defining each department's role in the overall service delivery process. We believe contact centers that implement and focus on a customer centric approach to the overall service delivery work more effectively because the whole organization becomes involved and accountable for the customer experience. | |

Customer Service 101 is a division of Evans Consulting Group focused specifically on customer service training and development. We offer customized customer service training programs to meet your organization's specific needs. Depending on your training requirements, we offer instructor-led workshops at your site or develop programs for your team to deliver.

Sherry Redden Evans, managing director of training & development, is recognized in the customer service community as a leader and is an accomplished speaker in the dynamics of customer service delivery within organizations. Sherry and her team will be with you every step of the way from the needs analysis to post assessment follow-up to ensure the success of the program.



SELECTED WORKSHOP DETAILS
Customer Service 101
When Tempers Flare - How to Remain Calm and Take Control For a Positive Outcome!

Understanding and improving the connection between emotions and actions is crucial to business and personal success. Learning how to defuse emotions and find common ground in addressing the issue plays a key role in our professional success.  Learning to recognize different emotions and separate the degrees of intensity is a skill that can be learned.  This allows individuals to better manage their relationships with others, and is especially important in environments that are constantly changing or emotionally charged.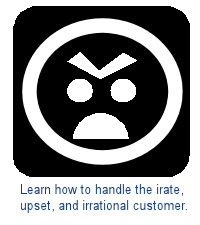 What You Will Learn:
How to recognize different emotions and distinguish degrees of intensity

How to avoid getting trapped  in emotions which cause you to lose your objectivity

How to apply the VALUED technique to defuse the emotions and solve the problem

How to use emotions to your (and the customers) advantage

How to address feelings by developing an emotional vocabulary to describe emotions with clarity and defuse anger

The four key emotional skills: identifying, leveraging, understanding and managing the emotions
Workshop Details
Four-hour workshop / plus one-hour post workshop skills practice (for those who choose to participate) using applicable work scenarios from your organization to practice your emotional intelligence skills in defusing an irate customer and identify any knowledge gaps in the process
Maximum 25 attendees
Audience: front line call center agents, help desk support, face to face service representatives, anyone who deals with upset people.
NOTE: Please fill out the following form completely in order to request more information about this workshop.

PLEASE ENTER THE FOLLOWING INFORMATION
NAME:

(First Name - Last Name)
TITLE:
COMPANY:
EMAIL ADDRESS:
PHONE NUMBER:
REQUEST DETAILS:
SECURITY CODE:
What is 111 plus 236?

IP ADDRESS:
Your IP Address is recorded as:
3.239.59.31





NOTE: All information submitted to our company will be considered confidential and will not be released to any agency, business, or individual except as might be required by law.